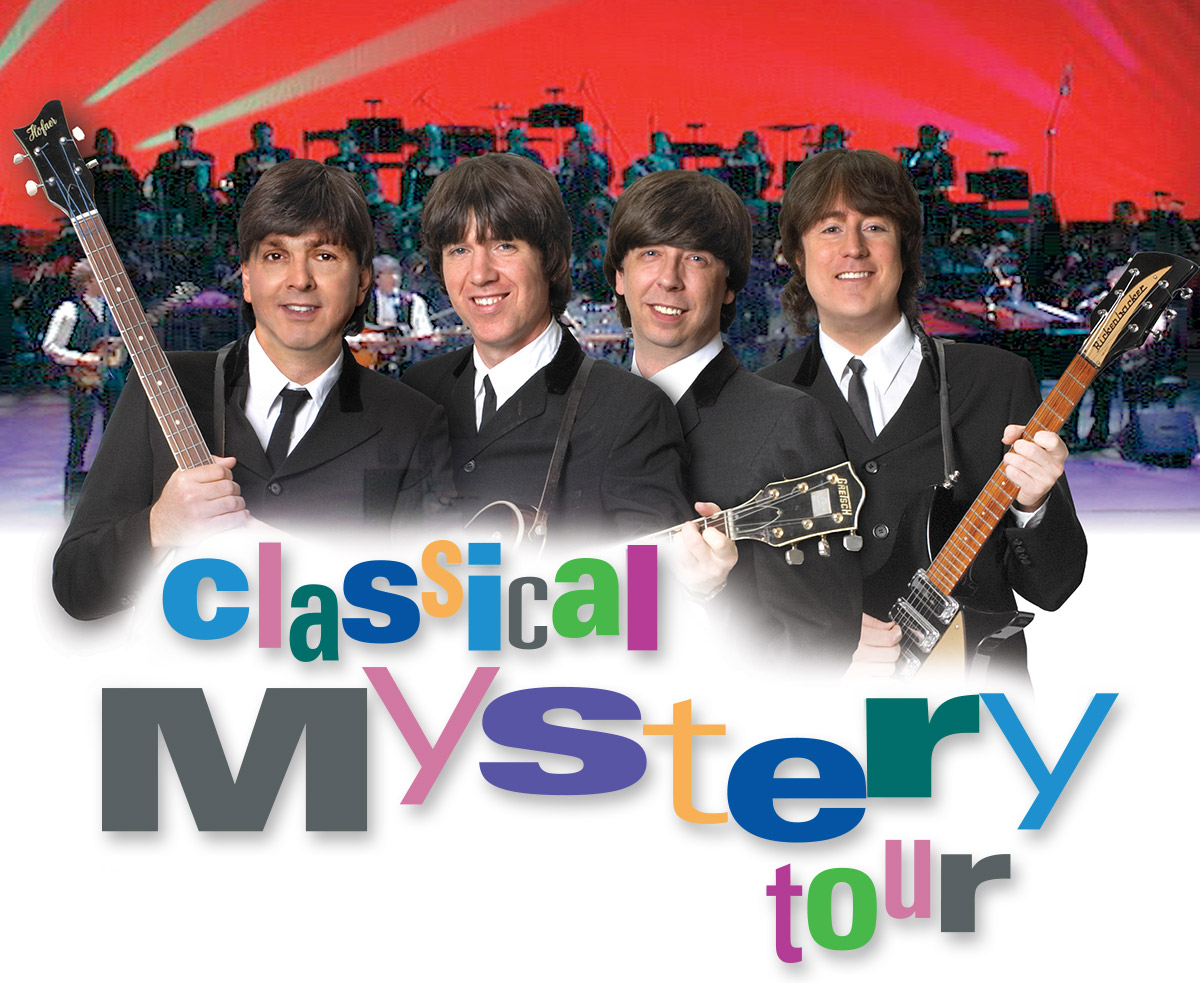 A tribute to The Beatles,
backed by a Symphony Orchestra.
Imagine The Beatles playing in concert with a symphony orchestra. What would that have sounded like? Find out for yourself when Classical Mystery Tour performs live in concert.
"These four musicians are jaw-droppingly accurate…the concept is a Beatles concert if the lads had been accompanied by a gifted symphony orchestra." – Cape Cod Times
The four musicians in Classical Mystery Tour look and sound just like The Beatles, but Classical Mystery Tour is more than just a rock concert. The full show presents some two dozen Beatles tunes sung, played, and performed exactly as they were written. Hear "Penny Lane" with a live trumpet section; experience the beauty of "Yesterday" with an acoustic guitar and string quartet; enjoy the rock/classical blend on the hard edged "I Am the Walrus." From early Beatles music on through the solo years, Classical Mystery Tour is the best of The Beatles like you've never heard them: totally live.
Classical Mystery Tour features Jim Owen on rhythm guitar, piano, and vocals; Tony Kishman on bass guitar, piano, and vocals; Tom Teeley on lead guitar and vocals; and Chris Camilleri on drums and vocals. Martin Herman, who transcribed the musical scores note for note from Beatles recordings, conducts many of the Classical Mystery Tour concerts.
Classical Mystery Tour has been delighting pops audiences for more than 22 years, performing concerts with more than 100 orchestras in the U.S., Canada, Europe, Asia, and Australia. The group played sold out concerts at the Sydney Opera House, and has performed with America's most prestigious orchestras, including the Cleveland Orchestra, The Boston Pops, The Philadelphia Orchestra, The San Francisco Symphony, and many more.
The Los Angeles Times called the show "more than just an incredible simulation…the swelling strings and soaring French horn lines gave Saturday's live performance a high goose-bump quotient…the crowd stood and bellowed for more."
Because many Beatles fans never had the opportunity to experience a live Beatles show, Classical Mystery Tour provides that opportunity. Experience the excitement of Classical Mystery Tour with a symphony orchestra, coming soon to a city near you!